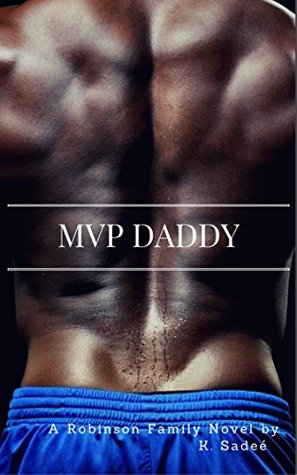 MVP Daddy by K. Sadee
Published: November 7th, 2016
Add to Your Goodreads
Buy it on Amazon
Blurb:
After being abandoned by her rapper boyfriend, Pop Queen Autumn Robinson has no time for love. She's focused on her family and her money--in that order. She's not looking for a new daddy for her baby and doesn't think she needs any man.
Too bad, MVP Baahir Jelani Lewis doesn't agree with her.
Review + Rating
4 out of 5 stars
What do a football player and a pregnant pop princess have in common?
Just enough to carry on one of the more romantic loves, I've read this year.
B.J. Falls for Autumn the minute he sees her perform up close and personal. From her chocolate skin to her full lips, he knows she's well out his league--but he can't stop thinking about her.
Autumn is not looking for love. Hell, she's not even looking for a friend. She's pregnant, with someone else's baby. But there's something about B.J., that she just can't resist.
Like I said this was one of the more romantic, romance reads I've read this year, so far.
It wasn't all about hooking up with Autumn for B.J., he was looking to form something solid, and meaningful--and every step he set out to prove to Autumn, he's nothing like her past loves.
I really liked B.J.'s character. As a football player, you imagine someone not only large in stature but also large in personality--and while he was no meek man he was far sweeter than I imagined he would be.
He was romantic, attentive, patient--and just an all-around good guy--and he accepted Autumn's pregnancy like a champ.
Autumn was just as good. Though she had to deal with the constant scrutiny of both the paparazzi and the public--she remained humble and kind.
I admired her character and her openness to accept love--after a devastating heartbreak.
Their love was slow, but just as meaningful. I must admit I was a little worried--that the slow pace of the novel would bother me, after a whole. BUT, once the book picked up, it was consistent--and romantic.
I shipped, I rooted, and I swooned.
This was well-written, even with the slow pace, this was a outstanding romance--with just enough drama, and all the necessary love--to make the romantic in us happy. Okay, I'm probably talking more for myself. I mean, I love, love.
I'd highly recommend this one. I was thoroughly impressed with its quality, and depth.