Pinstriped (Whitetide Streak#1)
Blurb:
A BBW in search of love + a sexy tiger shifter ready to claim her as his mate = Sizzling Alpha Romance
Personal trainer Diesel Reed desires a mate who can meet the insatiable demands of his inner tiger. Unfortunately, none of the women he trains spark a challenge.
Until Carina Parker, his curvaceous new client, walks into his gym.
Carina has given up on conventional love, thanks to her lousy luck with dating apps. Her sexy new trainer flutters her heart, but he's way out of her league.
Diesel thinks Carina might finally be the woman he is looking for, but Carina seems to be training hard to impress someone else, not him. Frustrated, Diesel seeks the advice of famed matchmaker Gerri Wilder.
But instead of answers, Diesel's visit to the Paranormal Dating Agency leaves him reeling in shock.
A threat from Diesel's past traps Carina in the middle of a deadly family feud. With love and honor hanging in the balance, Diesel is faced with a bitter choice: duty or happiness?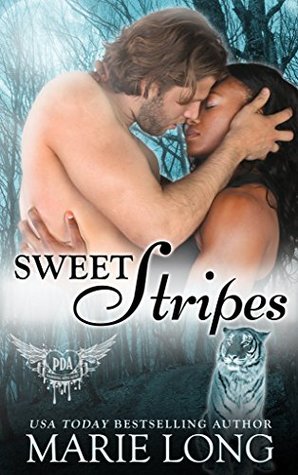 Sweetstriped (Whitetide Streak#2)
Blurb:
A BBW in search of love + a sexy tiger shifter ready to claim her as his mate = Sizzling Alpha Romance

A visit to the Paranormal Dating Agency leaves Gauge Reed skeptical of finding a mate who can satisfy his inner tiger's demands. But curiosity overtakes his doubts, and he follows Gerri's mysterious directions to a secluded town, where he encounters Aniyah Evans, an intriguing plus-sized beauty who accidentally stumbled into the middle of a vicious clan war.

Aniyah Evans, an aspiring pastry chef, had decided to put conventional love on the back burner after several failed relationships. After a near-death encounter with the bloodthirsty Dessar wolf clan, Aniyah is left face to face with the handsome stranger who rescued her. His charm and chivalrous actions make her reconsider risking her heart once more.

But getting close to Gauge comes with a price. With war and bloodshed threatening the future of the Whitetide streak, will Aniyah take her place as Gauge's mate and fight beside him, or is Gauge destined to fight alone?
Review + Rating
Series Rating: 3 and a half out of five stars
Book one:
I'm not new to Marie Long novels but I can attest to her growth as a writer in Pinstriped.
Pinstriped was a bit different from what I've grown used to from Marie—which is normally contemporary romances.
A paranormal romance was a nice deviation from her norm and was a well-written sexy thrill of a tale.
Diesel and Carina were an unlikely pair, one a shape-shifting tiger—the other a plus-sized beauty. It was unlikely but perfectly fitting. I rather enjoyed watching their romance blossom.
There's a lot of sex and pent-up tension but it's also very prominent and romantically demanding. It also has a touch of humor. It's a well-rounded read that's worth digging into.
Book Two:
While the two novels were painstakingly similar, Sweet Stripes had a little more depth in its plot than the first book.
Everything is riding on Gauge's ability to bring the honor back to his family. Diesel and Axle have all but given up on maintaining the bloodline—Diesel by way of ignoring it, and Axle by way of destroying it. He's the current pack leader and he's doing everything in his power, even if unintentional to ruin the reputation of their tiger clan.
Gauge has been walking around with his tail literally between his legs after having failed at getting his family back in order, but he's more determined than ever to rectify that, starting with getting a mate.
Aniyah is a plus-sized pastry chef tired of looking for a man until Gerri and her good 'ol matching services set up her up with Gauge.
What ensues is sex, romance, and a good knock out fight of power.
Like I mentioned this book is no different than the first one. There is sex, instant love and shape-shifters.
It's an interesting take on the paranormal normal, giving it a realistic and modern flair with the matchmaking service—taking the diversity a step further by making the female mc plus-sized.
As a series, it's fun. It does what it sets out to do. I still smart at the presence of insta-love and this book, the series is very insta-lovey, but I can't expect much from such short novels. I wanted more but it entertained me well enough.
Long does a decent job of doing all of what I mentioned and for those of you who enjoy a quick read, that gives just a little bit of everything romance and contemporaries normally contain this series is perfect for you. Just expect some lions and tigers and bears, oh my!